Obituary for John Rowland Anderson
Our beloved John Rowland Anderson, known to most as J.R., passed away peacefully surrounded by family and friends on Tuesday, April 18th, 2017.

J.R. was born in Tampa, Florida in 1943 to Harold and Ruth Anderson (Altree), now deceased. He moved to Lakeland, Florida at the age of eight where he developed many lifelong friendships. J.R. graduated from Lakeland Senior High in 1962.

1962 was also the year J.R. met the love of his life, Becky Lou Runnels. They were married in 1966 at Southside Baptist Church and would have been married 51 years this June.

In 1971 J. R. was accepted into the Florida Highway Patrol Academy. Over the next 28 years
J.R. worked diligently as a Trooper in Miami, Florida. God, family, and the patrol was his life. J. R. successfully rose to the rank of Sergeant and retired as a respected Lieutenant. Throughout his career J.R. had numerous accomplishments. He served as a vehicular homicide investigator for twelve years and became an honorary escort to Bob and Delores Hope. One of J. R.'s most memorable assignments was escorting the University of Miami's championship winning football team.

J.R. and wife Becky kept a strong faith through their trials and tribulations while residing in Miami, Florida. The couple retired in 1998, and relocated to Lakeland, Florida to reside in J.R.'s childhood home. For the next 20 years, J.R. and Becky enjoyed grandchildren, motorcycle road trips, camping adventures, and many fond memories with lifelong friends. They were active members of All Saints Episcopal church and supported numerous charities within the community.

J.R. is survived by his loving wife Becky L. Anderson. Children, Captain Shane D. Anderson, Metro Dade County Fire Department, and domestic partner Officer Bridget M. Doyle, Miami Dade Police Department. Shannon E. Conrady (Anderson) and her husband Captain Adam W. Conrady, United States Marine Corps. Grandchildren Matthew A. Hoffman, Sara E. Anderson, and Ashleigh E. Hoffman. Step-grandchildren Allison L. Conrady, Brandon W. Conrady, and Caleb V. Conrady. Through marriage J.R. is also survived by numerous beloved In-laws and nieces and nephews.

J.R. will always be remembered for his laugh, his legendary practical jokes, and his willingness to help all of those in need. He was kind, hardworking, loving, loyal, and embodied everything it meant to be a Christian.

We will remember John Rowland Anderson on Saturday, April 29th, 2017 at 10:00 AM. The service will be held at All Saints Episcopal Church located at 202 South Massachusetts Avenue, Lakeland, Florida. Following the service, a reception will be held at the church. The interment will be held at a later date in Tampa, Florida.

In lieu of flowers, J.R's family has requested that a donation in his honor be given to The Progeria Research Foundation or The Metastatic Breast Cancer Research Foundation, METAvivor.
To send flowers or a remembrance gift to the family of John Rowland Anderson, please visit our Tribute Store.
Previous Events
Service
All Saints Episcopal Church
202 South Massachusetts Avenue,
Lakeland, FL 33801
Reception to follow service
Memorial Contribution
The Metastatic Breast Cancer Research Foundation
About METAvivor METAvivor is dedicated to the specific fight of women and men living with stage 4 metastatic breast cancer. At the time of METAvivor's founding, no organization was dedicated to funding research for the disease and no patient groups were speaking out about the dearth of stage 4 cancer research. While more and more people have taken up the cry for more stage 4 research, METAvivor remains the sole US organization dedicated to awarding annual stage 4 breast cancer research.
The Progeria Research Foundation
Hutchinson-Gilford Progeria Syndrome ("Progeria", or "HGPS") is a rare, fatal genetic condition characterized by an appearance of accelerated aging in children. Its name is derived from the Greek and means "prematurely old." While there are different forms of Progeria*, the classic type is Hutchinson-Gilford Progeria Syndrome, which was named after the doctors who first described it in England; in 1886 by Dr. Jonathan Hutchinson and in 1897 by Dr. Hastings Gilford. HGPS is caused by a mutation in the gene called LMNA (pronounced, lamin – a). The LMNA gene produces the Lamin A protein, which is the structural scaffolding that holds the nucleus of a cell together. Researchers now believe that the defective Lamin A protein makes the nucleus unstable. That cellular instability appears to lead to the process of premature aging in Progeria. Although they are born looking healthy, children with Progeria begin to display many characteristics of accelerated aging within the first two years of life. Progeria signs include growth failure, loss of body fat and hair, aged-looking skin, stiffness of joints, hip dislocation, generalized atherosclerosis, cardiovascular (heart) disease and stroke. The children have a remarkably similar appearance, despite differing ethnic backgrounds. Children with Progeria die of atherosclerosis (heart disease) at an average age of fourteen years. * Other progeroid syndromes include Werner's syndrome, also known as "adult progeria" which does not have an onset until the late teen years, with a life span into the 40's and 50's.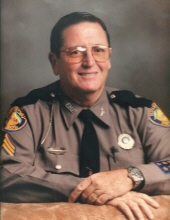 Thank you for sharing your
memory of John
Provide comfort by sending fresh
flowers from our local florist.
No thanks, please don't show me this again.